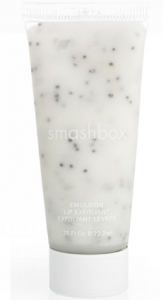 I've been really excited to try this product out, especially since it's winter and my lips are suffering hardcore.
"The first sugar-based, peppermint, lip exfoliator that is perfectly edible, and smells delicious. Experience a cooling sensation as poppy seeds and sugar granules gently remove dry, flaky skin, while shea butter, jojoba, and antioxidants condition and revitalize lips."
The first thing I noticed about the product was that it smelled GREAT. The cooling sensation was really enjoyable, unlike other lip products I've tried that have sported the "cooling" factor. Once applied, I rubbed the product into my lips to really get the sugar granules and poppy seeds exfoliating. After just a few seconds my lips looked and felt amazing!
It's really important to take care of your skin and lips, especially during the winter months. Flaky lips are a no-no, especially if you're going to wear lipstick. I definitely recommend this product, and used once or twice a week you'll keep your lips looking healthy and shiny. It's currently not on
Smashbox's website
, but you can buy it
online here
or at a
Sephora
location.